Incontinence Care with Affordable Medical
Products for all types of needs, for everyday use to bed bound needs.
Every day Affordable Medical strives to help families and caregivers meet the demanding stress associated with Incontinence. We work personally with each and every individual in order to help you determine the best products for your clinical needs as well as your financial budget. There are many incontinence solutions that are already successful that we can suggest. We understand the continuous trials of products when the incontinence needs begin to change and caregiving becomes more challenging . We stay with you through this process. We listen, we take the time and we approach each of your needs to provide you a tailored solution for your unique needs.
Our staff is responsive and fully committed to helping you and is evident in the actions of our dedicated customer service, daily. This is what makes a difference to the customers that have continued to rely on us as their trusted provider.

Incontinence care products
Bladder control pads
Pull up and diaper liners
Fitted stretch briefs
Mens guard pads
Men specific pull ups
Women specific pull ups
Belted undergarments
Pants & pad combos
Swimming pull ups
Youth training pants
Children diapers
Children pull ups
Baby pull ups & diapers
Bariatirc XL to XXXL
Washable underwear
Diaper covers
Personal care products
Adult wet wipes
Baby wet wipes
Dry cleaning wipes
Skin care
Odor control
Disinfectant cleaners
No mo o
Bathing products
Hair care
Foot care
Oral care
Vinyl, Latex and Nitrile Non-Powdered Gloves
OUR INCONTINENCE PRODUCTS & DESCRIPTIONS
PULL UPS / ABSORBENT UNDERWEAR
Pull ups are designed for all ages. They are often referred to as disposable underwear or protective underwear. They feature and absorbent polymer lining in the center with a cloth like woven outer shield. There are many leg styles, some featuring double elastic and others with less. Women and Men have specific needs and we carry Gender Specific products to meet the needs for Men and Women as well as Unisex products.
FITTED BRIEFS/ DIAPERS
Fitted and tabbed briefs are designed for all ages. These products can be re-fastened if using the Velcro type, or re-taped if using the standard products. All products have waterproof backing, some in plastic form and others in a cloth like woven form. These products come in many leg styles and it's important to understand the manufacturing of the lower grade products when needing coverage.
WOMENS PADS
Women's pads are used for many reasons, therefore, they come in many sizes, lengths, absorbencies and widths. These pads all have a plastic backing which is why they are meant to go inside your own underwear. The plastic backing stop the leakage and embarrassment of incontinence. Light needs can be small thin pads, whereas, a heavier need may need long pads, thick pads or extra absorbency. These are NOT meant to go inside of any pull up or diaper as some may think. Since they have the plastic backing, once the pad is filled, the void will release out the side if the legs. Flow thru pads are needed if used inside of Pull Ups or Diapers.
MENS GUARDS AND SHIELDS
Men's guards and shields are meant to be used inside your underwear to protect from leakage. These all come with a plastic non-leak backing to be used in your own underwear. Many men recovering from prostate surgery or other related issues use these to protect them from embarrassment with leakage that is not controllable.
BOOSTER PADS AND INSERTS
Booster pads and inserts are meant to go inside of a product. It is important to note that these products are not the pads that have the plastic backing on them. These products allow the flow to go through the pad into the outer garment.
LINERS
Liners are meant for moderate to heavy use and for bowel incontinence. These products are worn inside a washable pants /pad system. Washable Pants are normally mesh knitted products that will hold the large pad more securely in place. These come in all thicknesses and sizes. Also see Belted products as a choice.
BELTED PRODUCTS
Belted products are a bridge between an incontinence pad and a diaper. Most all of these products are held in place by a soft woven band that sits at the waist or hips and attaches to both the front and back of the band. Many larger clients that have difficulty in using a pull up, find the belted pad less cumbersome with good coverage.
OVERNIGHT PRODUCTS
Overnight products that work the very best have more polymer and coverage than other products. The best way to determine the right product for use would be to call the incontinence Team at Affordable so they can ask determining questions to help you through. Tabbed or Velcro diapers/briefs are always more protective than pull ups.
BARIATRIC PRODUCTS
Obesity and Incontinence can become a serious issue of not using the proper products or changing often. Most of the diapers, underwear and liners are not available in the stores for people over 350-400 pounds. There are the lower grade products for very light leakage, whereas a larger void need to seriously look into products that will protect the skin. Heavier weight usually means less changing, and the need for a more protective product and excellent skin care will help reduce your chances of skin sires. Please call to see how we can help you in this area.
BABY / INFANT PRODUCTS
Affordable has selected the best quality pull ups and diapers to meet the newborn infants up to the toddler sizes. Some of our babies have special needs, which requires them to be in a diaper or pull up from baby sizes through their youth years and onto adults. We are proud to be a supporter of children with special needs families and will help you to meet your child's special care at home, or in school. Call us to see how we can help you. We Bill Medicaid.
SIMMING PRODUCTS
Swimming Pull Ups are designed for adults, teens and children for use when swimming or fun in the water. These specific products are meant to contain bowel and minor urinary leakage.
UNDERPADS, CHUX, WASHABLE BED PADS AND PROTECTORS
AFFORDABLE MEDICAL has a wide variety of sizes and absorbencies for many uses as well as specialty mattress needs.
These pads are flat and have a plastic or woven protection cover on the bottom side to avoid leakage on a bed, chair or during wound care or diapers changes. These pads are often called CHUX.
Various sizes as well as the absorbency may help you to determine the brand or type. Some underpads are sealed on the edges to stop leakage and others are not. There are various thicknesses, fluff types as well a waffle weaved to help remain flat on the bed.
SPECIAL UNDERPADS NEEDS
If you are using a low air loss mattress system, it is best to use a flow through underpad to help the air reach your body.
PETS pee pee pads are more economical through our network than at most all pet stores.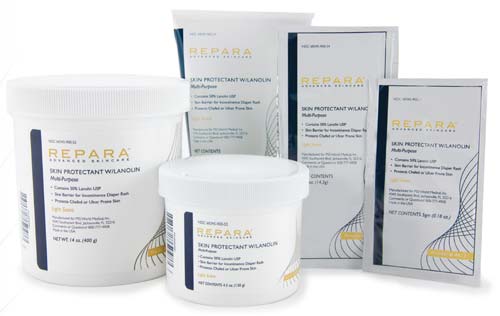 PERSONAL CARE PRODUCTS
Affordable carries a large assortment of products and brands to manage your incontinence care including skin care salves and lotions, to perineal sprays and body washes as well as protection supplies like gloves and disposal bags. These accessories help to provide a better quality of life and peace of mind while changing and disposing of incontinence supplies.
WET WIPES / CLEANSING WIPES
These wipes come in 2 sizes. Baby wipes are much small wipes most used for infants and babies, whereas Adult wet wipes are larger for adult usage. Some wipes have lanolin or aloe and others are fragrant free and no additives.
DRY WIPES
Dry Wipes are soft dry cloths that are used to clear the skin and pores of bacteria. Use these wipes after you have collected the bowel and used the wet wipe to partially clear the skin. Spray a perineal spray onto the soft dry wipes to penetrate the pores to cleanse them before using your skin protectant.
SKIN CARE
We understand the importance in proper skin care. We educate on skin care and the need to use the proper products for sound protection for incontinence care. Skin protection is important to note as urinary and bowel incontinence turns to bacteria quickly. Protection of the skin can make the difference between having a bed sore and clear skin. Call us to help you in the choices for your care.
VINYL, LATEX AND NITRILE NON-POWDERED GLOVES
AFFORDABLE carries a wide variety of Vinyl, Latex and Nitrile Non-Powdered Gloves. Ask specifically for Sterile Gloves if they are needed for wound care or other specialty duties. We sell gloves by the box or discounted by the case.
DISINFECTANTS AND ODOR CONTROL
The disinfectants that Affordable carries are all approved for medical grade cleaning and have the capability to be sprayed on or used in water. These disinfectants use enzymes to break down the components that urine and bowel discharges, odor control products range from Adult and Child Diaper Pails to sprays that quickly deodorizes a full room.
Our Adult Incontinence Disposal System is a containment system with pedal-operated lid and extra-large opening to accommodate adult-sized diapers.